Unishippers Franchise Opportunity Meets with Franchise Interviews
Franchise Interview
Rick Werner - Franchisee - Unishippers
We are meeting with Rick Werner of Unishippers. Rick Werner owns a Unishippers franchise, a third party shipping adviser for small to mid-sized businesses. He has been in business since January and works from home, building his business while serving as the primary caretaker for his 18 month-old daughter. He and his wife live in Auburn, AL.

Franchise Interviews: You describe yourself as a stay-at-home dad. What does that mean, and how does the Unishippers model work into that picture?

Rick Werner: I decided to become the primary care giver for our daughter when considering the cost / benefit of child care. We have one daughter - going on 18 months. And I did partly invest in Unishippers for the work from home aspect as well as several other unique characteristics Unishippers brings to the table. We will be putting our daughter into day care for about three months while we remodel the lower level of our home turning it into a play / recreational area, after which we will bring her care in house hiring a full time nanny to take care of her while I work during the day from our home office.

Franchise Interviews: For our listeners who don't know, tell us about Unishippers. Explain what Unishippers does and what services it provides.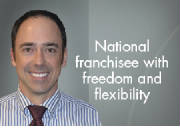 Rick Werner: Unishippers is a third-party shipping adviser for small to mid-sized businesses. They have been in business since 1987 - 25 years of experience. The Unishippers concept is simple - we work with major carriers including UPS®, YRC Freight ® Saia®, Estes and UPS Freight® to handle the pickup, transport and delivery of customers' shipments. Unishippers is 1 of 2 authentic partners with UPS. We provide shipping solutions for small to mid-sized businesses - NOT for consumers, not like open UPS stores. Local Unishippers franchisees work to provide customers with service and support. By leveraging the combined shipping volume of all its customers, Unishippers gets deeply discounted rates from its carriers, resulting in lower shipping costs.

Unishippers beat rates by 20% on average for shipping costs by leveraging the buying power of over 300 franchisees. Unishippers provides customized software program to evaluate shipping cost from more than 30 carriers to find the best deals - similar to Expedia (use to find best deals for travel). Unishippers provides some of the benefits, service and pricing that the large businesses get that the small to mid-sized businesses generally can't. We serve more than 50,000 small to mid-sized businesses annually and 6 million shipments per year. Unishippers is based in Auburn, AL but "national" so can sell everywhere.

Franchise Interviews: Tell us a little bit about your background and what you were doing before you decided to launch a Unishippers business.
Rick Werner: I am from St. Louis, Missouri. I went to Huntington College. I was a Restaurant manager so I worked long hours, holidays, etc. I am also from the insurance world and worked for major carriers. I went out on own, became broker - middle man for small business owners, and brought benefits to them. I got a lot of experience with life of business owner, grew comfortable talking about sensitive subjects (health insurance). I gained inner-personal skills, learned how to read personalities. I worked for 10 years, and my wife got her dream job in AL as professor so we moved to Auburn. I networked a bit, didn't find opportunity as insurance broker in area so I had to reinvent self. My fraternity brother introduced me to the Unishippers franchise concept in 2012. By end of 2012, I bought a Unishippers franchise. While I didn't have direct industry experience, my sales experience was a transferrable skill.

Unishippers

Franchise Interviews meets with dadpreneur Rick Werner of Unishippers
Rick Werner
Franchisee
Franchise Interviews - What attracted you to the Unishippers franchise opportunity?

Rick Werner: I did research prior to purchasing a Unishippers franchise. I liked the residual income and a stable industry that is not going anywhere. Everyone ships all the time, all over the country. Shipping is necessary to make businesses run. I liked the Low initial investment compared to other franchise opportunities. B2B sales can be done over the phone or face-to-face. As I mentioned, I have sales experience so Unishippers was good fit.

Franchise Interviews: Has technology played a role in your business?

Rick Werner: One of Unishipper's selling points is technology. The website is user-friendly, simply log in and you are ready to ship! From there you tell the system where shipping from, to, what you are shipping, and what service you want....for example drop box, UPS store, or pick-up. At the end of month, we produce invoices for clients with one bill, no matter how many carriers. In addition to internet, we can do face-to-face as well as cold-calls and sales over phone - b/c national franchise, can sell anywhere in country. There is less risk building from ground up because not exclusive territory.

Franchise Interviews: What is the training like for new franchisees?

Rick Werner: Unishipper's provides corporate training. There is 3 week training course - week 1 for new owner, week 2-3 is sales training where learn products and learn how to present to others. We did recorded cold calls, reviewed each day - helps walk through day-to-day sales while at corporate at Salt Lake City, UT. In addition, they provide a franchisee network, franchise association, a daily call-to-action with regional sales manager which is very motivational. There is also a Preview Review call with corporate where we discuss the next week and reviews the past week. Unishippers give franchisees tons of support (technology, customer service, have dedicated person assigned because new.
Franchise Interviews : What is a typical day like for you as a Unishippers franchisee?

Rick Werner: The day consists of answering emails, prospecting, and making cold calls in between appointments. We just call on businesses and not homes so franchisees can work set hours, for example 8-5pm. I still do lots of administrative work after hours since I am new. Being a sales rep in past, I am used to flexibility which is a great benefit
Click the play button below to listen to the whole interview with Rick Werner.
We had two more opportunities to meet with the Unishippers franchise opportunity. Click here to listen.