Franchising The Screen Industry. Franchise Interviews Meets Screenmobile
Screenmobile

Franchise Interviews Meets with the Screenmobile Franchise
We often suggest that every business has a story. In this case, Scott D. Walker, with his brother and father, started Screenmobile in their Glendora, California family garage in 1980. Sounds a bit like Steve Jobs and Apple! The Walkers had a vision of creating the largest and best screening business the world has ever known and after almost 4 decades of hard work, the company shows no signs of slowing down.
We are meeting with Scott Walker, the CEO of
Screenmobile
.
Screenmobile
is the nation's largest mobile screening franchise in the U.S., offering franchise opportunities for those desiring a non-traditional path towards owning a business.
Click the play button below to listen to the show.
Franchise Interviews Welcomes back the Screenmobile Franchise Opportunity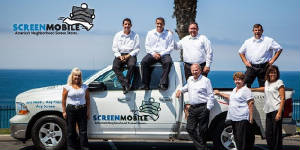 We are welcoming back Scott Walker, CEO of Screenmobile. Screenmobile is the nation's largest mobile window screen repair business, with over 100 franchise owners, and growing. Screenmobile specializes in window, door and patio porch screen and solar shading products. For over 35 years, with no national competitors, our franchise owners have enjoyed years of growth and success, as we continue to pioneer this industry. Learn more about the opportunities with our unique home services and home improvement franchise concept! In part two, we play a clip from our popular Great Quotes in Franchising podcast.