We are meeting with Christin Myers - Regional Director of the OpenWorks franchise opportunity. OpenWorks is guided by a simple philosophy: A cleaner, safer and healthier environment means a more productive work place. This is our goal at OpenWorks – to offer more than maintenance by working with you to improve your work environment. This is what motivates and challenges OpenWorks to go the extra mile. OpenWorks was founded in 1983 by their current CEO, Eric Roudi. Roudi, a career entrepreneur, realized commercial cleaning was a massive and underserved $100 +billion industry. There were very few professional commercial cleaning companies at this time. Already intrigued by the idea of franchising, Roudi saw a great business opportunity by putting franchising and commercial cleaning together to create the unique concept we know today.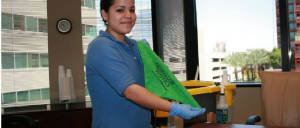 After diligent research and planning, Eric Roudi introduced OpenWorks Facility Services, a company that is committed to improving facilities by maintaining high standards and providing quality work to consistently make facilities cleaner, safer and healthier.
Headquartered in Phoenix, Arizona, OpenWorks has regional offices located in Los Angeles, California, San Franciso, California, San Diego, California, Seattle, Washington, Dallas, Texas, Austin, Texas, Houston, Texas, Chicago, Illinois, Denver, Colorado, Tampa, Florida, Atlanta, Georgia, Minneapolis, Minnesota and Phoenix, Arizona. In part 2, we play a clip from our popular Great Quotes in Franchising podcast. Click the play button below to listen to the show.