Big Frog Franchise Opportunity
Big Frog
Franchise Interviews Meets With the Founders and Leaders of the Big Frog Franchise
This week, Franchise Interviews is celebrating 8 years and our 400th show. Today, Franchise Interviews is meeting with Leeward J. Bean, President and CEO of Big Frog, Ronald E. DeFrece, Vice President and COO of Big Frog, and Dr. Christina (Tina) Bacon-DeFrece, Ph.D., Executive Vice President of Big Frog. Big Frog's digital print on apparel capabilities make them a unique franchise opportunity - find out why by listening to the show. This is a great story of entrepreneurship, marketing, and leadership. Learn more by clicking the link below to listen to the show.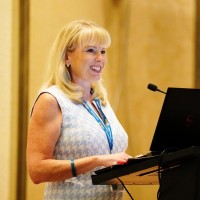 Franchise Interviews Welcomes Back the Big Frog Custom T-Shirts & More Franchise
We are meeting with the President and CEO of the Big Frog franchise opportunity, Tina Bacon DeFrece.
Locally owned and operated, Big Frog Custom T-Shirts & More specializes in Direct-to-Garment (DTG) printing, a clean and green apparel printing technology. Big Frog is a one-stop-shop for "un-frog-ettable" custom apparel with a wide selection of services including screen printing, embroidery, vinyl, and Ultra Print (heat press). Established in 2008 by co-founders Leeward Bean, Tina Bacon-DeFrece and Ron DeFrece, the franchise brand has since expanded to nearly 100 locations in 25 states and Canada offering free 15-minute, in-person design help, no minimums, and fast turnaround (often 24-hours) on DTG printing. Globally headquartered in Dunedin, Fla., Big Frog Franchise Group is led by President and CEO Tina Bacon-DeFrece.
Big Frog launched the veteran-focused initiative to help veterans and first responders fulfill their dreams of owning a small business. Recently named one of the "Top Low-Cost Franchises" by Entrepreneur Magazine, Big Frog has made it a mission to help entrepreneurs start profitable small businesses. Click the play button below to listen to the show.