Franchise Interview with the Juice It Up Franchise Opportunity
Juice It Up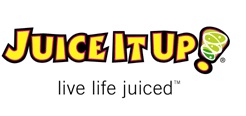 Franchise Interviews meets with the Juice It Up franchise opportunity.
Today Franchise Interviews is meeting with Frank Easterbrook, CEO for the Juice It Up franchise opportunity.
Juice It Up was first launched in 1995. Juice It Up is a franchised smoothie and juice bar chain that specializes in blended-to-order fresh fruit smoothies, fresh-squeezed juices and other beverages served in a relaxed, family-friendly environment. Juice It Up combines fruit, proprietary fruit juices, non-fat yogurt, sherbet and nutritional and vitamin supplements to create smoothies that are consistently voted best tasting in blind taste tests among the top smoothie and juice bar chains. Click the play button below to listen to the show.