Franchise Interviews Meets with the Fiesta Auto Insurance Franchise
Fiesta Auto Insurance and Tax Services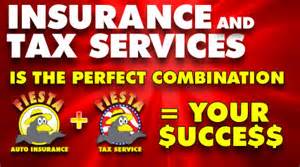 Franchise Interviews meets with the Fiesta Auto Insurance franchise to discuss insurance and taxes.
Today, Franchise Interviews is meeting with Fiesta Auto Insurance franchise opportunity. Fiesta Auto Insurance is the country's first franchise to join insurance and tax preparation. This strategy provides a one-stop shop for the budget-minded consumer. In addition to auto insurance, Fiesta provides insurance services for boats, motorcycles, homeowners, rentals, and more.

On the tax side Fiesta offers federal and state personal income tax filings, business tax returns, electronic filing and bank products. Fiesta also provides motor vehicle registration services, travel services, wireless services and instant wire money transfers as well as accounting and bookkeeping services. We are meeting with the President of Fiesta Auto Insurance, John Rost.
We are also meeting with one of our favorite writers Nancy Weingartner from Franchise Times magazine. Click the play button below to listen to the show.