Schlotzky's Franchise Opportunity
Schlotzsky's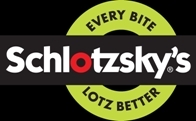 Franchise Interviews meets with the Schlotzsky's franchise opportunity
This week Franchise Interviews is meeting with Schlotzsky's to discuss their franchise opportunity. Fast approaching its 45th birthday, Schlotzsky's, the home of The Original®, round toasted sandwich, has decided to shake things up in a big way. Schlotzsky's has introduced an entirely new brand image that is attracting new kinds of guests and refueling franchise growth around the country. The brand reinvention, which is literally and figuratively "All 'Round 'Lotz Better," includes a new prototype restaurant featuring vibrant colors, playful slogans, contemporary furniture and artwork, and a partnership with sister company Cinnabon that offers franchisees two brands under one roof. Schlotzsky's also introduced a new service model where crew members hand-deliver food to the tables. We are meeting with Schlotzsky's President Kelly Roddy and discuss the rebranding process, as well as chain's recent partnership with Cinnabon.

About Schlotzsky's - Since 1971, Schlotzsky's has been the home of The Original® toasted sandwich. The menu has evolved with customers' tastes to include the highest quality sandwiches, pizzas, salads, and soups available today. Schlotzsky's is enjoyed around the world, with restaurants in Turkey, China, Saudi Arabia, South Africa, Costa Rica, Jordan and Kuwait. Schlotzsky's is owned by FOCUS Brands Inc.®, the franchisor and operator of over 2,200 Carvel®, Cinnabon®, Schlotzsky's®, Moe's Southwest Grill® locations and Seattle's Best Coffee® on certain military bases and in international markets.

We also have Nancy Weingartner of Franchise Times Magazine calling in on segment 1!