Flips!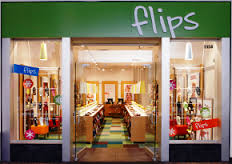 Franchise Interviews meets with Valerie White, COO of the Flips! franchise opportunity
Franchise Interviews - Tell me about Flips...

Flips! Flips is America's only FASHION flip flop store! We're located at the Mall of America in Minneapolis, MN & Flips takes fashion & comfort flip flop footwear to a whole new level!
With over 200 styles of brand name flip flops for women, men, & kids, we go from beach to bling, pool to pedicure, week-end to wedding! We even offer a great selection of orthotic-quality flip flops. At Flips we've got "the" perfect flip flop for every occasion 365 days a year! That's "heaven on earth" for flip flop lovers!

It's staffed with friendly flip flop "experts", passionate about the product & our customers & who provide memorable customer service. It's a fun cool place to shop where it's summertime all year long! What's not to love about that? Ultimately, our goal is to make feet happy & make toes smile!

Franchise Interviews How long have you been in business?

Flips - We opened our doors in 2009 at the height of the recession...in Minnesota!!! Think about that...a flip flop store in Minnesota. Not only have we survived, we've thrived! We know our success at the Mall of America (in Minnesota) demonstrates the potential of the concept in so many other areas of the country where the weather is more temperate.

Franchise Interviews - Sounds a bit like a specialized niche business...What's the size of this industry? What's the growth potential?

Flips! - Flip flops represent more than $7.5 billion in sales of the total footwear industry... & the category continues to grow!
Once considered simply beachwear, every day of the year our customers prove that flip flops mean much more than that! They're now mainstream footwear for all occasions. Think about athletic shoes 20 years ago. They used to be worn for solely for sports, now they're worn to church & even on the red carpet! Flip flops are an example of that same kind of acceptance & growth trajectory.
Franchise Interviews - What makes Flips stand out among all other fashion footwear retailers competing for consumers attention today?
Flips - So many things set us apart, but here are 3 key differentiators...First, the fashion & comfort..& breadth of assortment. No matter the occasion, or what your comfort need, with over 200 brand name styles, we've got so many options to choose from 12 months a year! If you've ever planned a winter vacation getaway, or a winter destination wedding, you'll know it's nearly impossible to find flip flops anywhere! And because this is our business 12 months a year, we've always got the newest styles available as much as 3-6 months ahead of traditional retailers. Next, our stores are fun to shop! We've got an interactive patent-pending merchandising system that allows for easy hassle-free shopping...
All you do is match the location number of the pair you love on from the tabletop display. The product is merchandised on hangers beneath the display. Simply match the location number & pull-out the "telescopic" bar toward you! Simple, fun, & uniquely Flips! Finally, & most importantly, the quality of our friendly trained associates set us apart.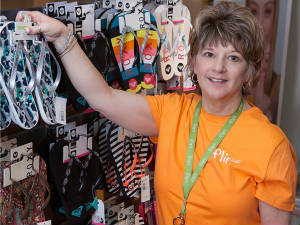 Franchise Interviews - Why is this an interesting opportunity for prospective franchisees?
Flips! - The Flips concept has been designed to be easy to learn & operate.
• It's an affordable opportunity for people who want to be in control of their own destiny.
• The systems are in place to allow anyone, with our training program, to step in & run a store successfully.
• We are committed to providing ongoing support to every franchisee!
• No retail experience? No worries! We will get you ready!
Franchise Interviews - What kind of experience does the (management) team have?
Flips! Our team literally has decades of successful retail management experience with leading national retailers. Collectively, over 90 years of experience, with particular emphasis in store operations, merchandising, sales, & marketing...& in launching new retail start-up concepts.
Flips!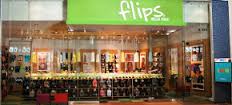 Meeting with the Flips! franchise.
Franchise Interviews - Describe the ideal Flips franchisee.

Flips! - Our ideal candidate has a passion for flip flops & fashion, first & foremost. You must LOVE the product, right? It has to start there, as well as...
• A genuine love of customers: seeing them as guests in your store
• Someone who is outgoing & loves to smile!
• Desire to be an owner/operator with the willingness & ability to personally devote the time & effort required to succeed. It's a full time commitment...but a really fun one!
• Every day will be different, so flexibility is a plus!
• A willingness to learn & follow a proven system that's easy & straightforward.
• $100,000 in liquid capital

Franchise Interviews - What will a typical day be like for a Flips store owner?

Flips! First of all, lots of fun & lots of smiling!' Think about it: everyday you're re coming to work in a t-shirt & flip flops! How cool is that?
How could you NOT have fun selling flip flops??? It'll run the gamut: sales & customer service (of course!), along with merchandising the selling floor, purchasing, stocking, receiving & invoice management, marketing, scheduling/hiring, training...Basically, everything it takes to make the store succeed! Every day will be different, that's for sure!

Franchise Interviews - What is Flips' vision?
Flips! - Naturally, to put multiple pairs of flip flops on every pair of feet in the world. LOL! Seriously, we intend to open many Flips stores across the USA. It's a really big country! Initially, we'd like our initial franchise launch to be in warm & temperate climates.

Franchise Interviews - How should an interested candidate contact you?
We welcome qualified candidates to contact us at franchise@flipsstore.com. Also, interested candidates are invited to visit our Web site: flipsstore.com.