Margaritas Mexican Restaurant
Margaritas Mexican Restaurant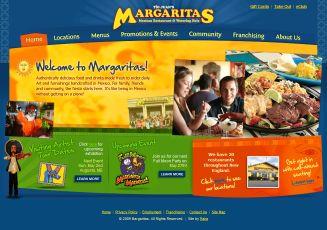 Margaritas Mexican Restaurant on Franchise Interviews
We are meeting with John Pelletier, Founder and CEO of Margaritas Mexican Restaurant. Margaritas Mexican Restaurant has become an experience warmly embraced by people looking for a place to visit as well as a place to enjoy delicious Mexican food. Every visit to Margaritas is an individual journey, constantly evolving, always surprising and open for interpretation and discovery. Much like the subtle nuances that differentiate each hand-painted ceramic sculpture in our restaurants, no two Margaritas are identical and no two experiences are exactly the same. But every visit is undeniably Margaritas. Festive and fun. Click the play button below to listen to the show.

Click here to listen to the show
Over the years we had two opportunities to meet with the Margaritas Mexican Restaurant. This was our fist interview with Margaritas...enjoy.Today Franchise Interviews is meeting with the Margaritas Mexican Restaurant franchise opportunity. Margaritas Mexican Restaurants was founded in 1986 by John Pelletier, Margaritas Mexican Restaurants has locations throughout Massachusetts, Maine, New Hampshire and Connecticut. From colorful authentic décor to a dedication to community relations through field trips and visiting artist demonstrations, Margaritas provides an atmosphere rich with the culture and flavors of Mexico, offering guests a fun dining adventure in a festive gallery of Mexican art.
Margaritas Mexican Restaurants have earned numerous awards and honors, including being named the best Mexican restaurant in both New Hampshire and Connecticut. Most Margaritas Mexican Restaurants range in size from 5,200-7,500 square feet, due to the company's specialty in doing conversions of existing restaurants which fits their concept. Listen to our interview with Bob Hofmeister, President and COO of Margaritas. Click the play button below to listen to the show.