Yummy Cupcakes Franchise Meets with Franchise Interviews
Yummy Cupcakes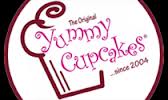 Franchise Interviews meets with the Yummy Cupcakes franchise opportunity.
We are meeting with Tiffini Soforenko, the Founder and CEO of Yummy Cupcakes and Dennis Mulgannon, Director of Franchising at Yummy Cupcakes. Tiffini started the biz in 2004 after 18 years in the corporate world, working for Universal Studios as the Director of Operations in LA and Japan.
Yummy Cupcakes opened their first-ever franchised location in San Diego and there are more coming in Michigan and other states in the next year. A lot of people are saying the cupcake craze is dying, but Tiffini will tell you straight up that it's not. It's just BAD cupcakes that are dying. At Yummy Cupcakes, she has created more than 400 proprietary gourmet cupcake recipes including 94 Vegan and 23 Sugar-free. There are also gourmet cupcake treats like Cupcake Truffle Pops, Cupcake in a Jar, Cupcakie Pies, Cupcake Parfaits, Cupcake Push Pops, Cupcake on a Stick and tons more.
The LA-based company has three California locations and two internationally with a lot of plans on the horizon for franchise expansion. Click the play button below to listen to the show.