guardNow Franchise Meets with Franchise Interviews
guardNow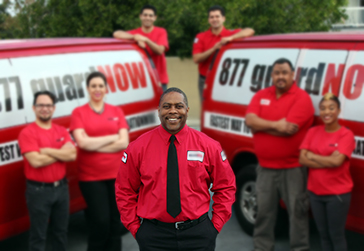 Franchise Interviews Meets with the guardNow franchise opportunity
Entrepreneur Zabi Kator is no stranger to what it means to start from the bare minimum, with growing fast company guardNOW within nine months he has managed to open 5 franchises including Los Angeles (home base), the Bay Area and New York. Servicing all needs of business and residential security and offering no contracts for usage. Temporary security guard service from guardNOW include jobs such as fumigations, firing an employee, moving out an old roommate, an ex or any type of special event.
At the young age of 26 Kator put his time into developing an affordable security guard company that did more than just the basics of security guard requirements. As a UCLA grad his experience in college as taught him how to expand his ideas to give him the 10 years of security and franchising knowledge he obtains today. Kator is currently obtaining his second degree at USC in Los Angeles.
guardNOW price ranges caters to every income available, offers discounts year round and ranges in a long lists of events. Recently Kator expanded his business to specialize in events, specifically weddings, quinceaneras and bar mitzvahs.
"Starting your own business can be complicated but if it is your passion then it comes easier, I plan to continue my growing company, so much as happened for me within two years," said Kator.
guardNOW offers the first online order form that does not require to speak to a live agent. This makes it convenient for users to log online and fulfill orders at their own convenience but still be able to call and get help through the process. This method protects their credit card information and brings the customer back to fulfill the simple task of ordering a guard without help.
"As an entrepreneur under 30 my goals are to make my business a well-known experienced security guard company before reaching 30" - Kator
About guardNOW:
guardNOW provides skilled professional security guards who know what to do in the event of an unforeseen incident. Guards are able to come to a location in just two hours without the need of a long term contract. Clients include small businesses, residences where the owners may be out of town, neighborhood surveillance, construction sites or vacant building that needs to be supervised. guardNOW also caters to special events for weddings, bar mitzvahs, quinceaneras, and birthday parties. Specializing in nontraditional security guard services, guardNOW offers premium service for safety and security needs.