Retro Fitness Meets with Franchise Interviews
Retro Fitness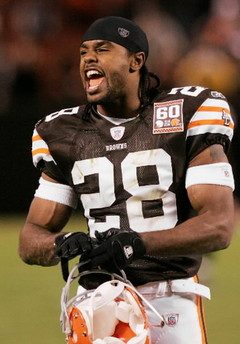 Former NFL Leigh Bodden of the Retro Fitness Franchise Opportunity
Over the years, we have interviewed some great athletes as well as stars to the great show Undercover Boss. We are meeting with Leigh Bodden and Undercover Boss star Eric Casaburi. Former NFL Cornerback, Leigh Bodden, has signed on to become part of Retro Fitness, America's rapidly growing fitness chain known for its low cost and high value. Bodden has plans to open clubs throughout Washington D.C., Maryland and northern Virginia with more to follow in additional markets across the East Coast.
Bodden spent nine years playing as a cornerback in the NFL for the Cleveland Browns, Detroit Lions, and most recently the New England Patriots, before pursuing options in entrepreneurship. Bodden is no stranger to the fitness industry and Retro Fitness had big expansion plans for his home market, making the pair a perfect fit. Bodden's Retro Fitness locations will be operated under The WEOU Group, a hospitality company founded by the athlete to house a variety of investments in the fitness, hotel and restaurant industries. "I always knew I wanted to be my own boss and work in business one day, even before my athletic career in the NFL," Bodden said. "I relate to Retro Fitness; I have the same core values as the Retro team and they were looking to hit my home market big, so everything aligned. I look forward to being part of this brand and growing this market in this stage of my life."
"We're a team at Retro Fitness; all of us working together toward a greater goal, and Leigh understands what it's like to have to work as a team for everyone to be successful," said Eric Casaburi, founder and CEO of Retro Fitness. "Athletes make some of the best business owners for their dedication, ambition and drive, and we're thrilled to call Leigh part of the Retro Fitness family." Click the play button below to listen to the show.