Franchise Interviews Celebrates Six Years and 300 Shows
Two Men and a Truck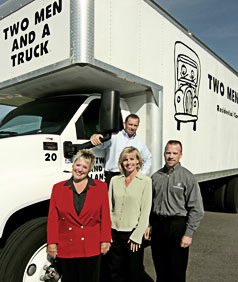 Franchise Interviews Meets With the Two Men and a Truck Franchise
Franchise Interviews Celebrates Six Years and 300 Shows - Thursday, November 29, 2012 -We could not think of anyone better to celebrate our 6th year anniversary and 300th show than with Melanie Bergeron, Chair of TWO MEN AND A TRUCK. It all started as an after-school business for two high school boys. Now, 20 years later, TWO MEN AND A TRUCK®/INTERNATIONAL, Inc. has grown both domestically and internationally. This is an amazing story as well as franchise. Find out why by listening to the show.
5 Pennies by Lonnie Helgerson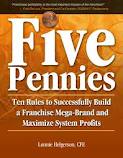 A must read before buying a franchise
We are also going to hear clips from our interview with Lonnie Helgerson. Lonnie is a franchise author, franchise speaker, and serial frantrepreneur. Lonnie Helgerson. Lonnie has over 27 years in the franchise industry working with companies such as Super 8 Motels, Ident-A-Kid, and many more.
We also hear a clip with the star of Undercover Boss Catherine Monson. Catherine Monson is also the CEO of FASTSIGNS. FASTSIGNS International, Inc. is the worldwide franchisor for the more than 530 FASTSIGNS® sign and graphic centers located in the US, Canada, the UK, Brazil, Mexico, the Caribbean, and Australia (where centers operate as SIGNWAVE). Click the play button below to listen to the show.