JDog Junk Removal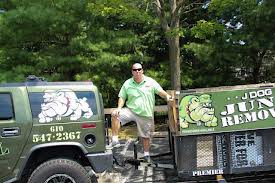 Franchise Interviews discuss military veterans with the JDog franchise opportunity
One franchise that is getting a lot of public relations over the years is J Dog Junk Removal. Today we are meeting with Jerry Flanagan, the founder of J Dog Junk Removal. J Dog Junk Removal is a full-service junk removal company that removes almost anything. They offer junk removal services for your business or home. They work with offices, retail locations, storage units, churches, apartments, warehouses and more.
J Dog Junk Removal, a full-service junk removal franchise, which is taking veteran employment assistance to new heights with the creation of a low-cost franchise opportunity, offered exclusively to veterans and active-duty members of the United States Military. The concept was created by an Army veteran in response to the excessively high unemployment rate for returning service members.
In an attempt to ease the transition from military to civilian life, JDog Junk Removal offers veterans and active-duty Military members the hands-on training, business support systems and assistance programs needed to effectively get their business off the ground quickly. The concept has a rapid launch capability of less than 90 days. In addition, owners have the ability to gain extra income with multiple revenue stream opportunities. No other franchise has ever been developed by a veteran solely for veterans. Click the play button below to hear the show.