Franchise Interviews Meets With The Superior Wash Franchise System
Superior Wash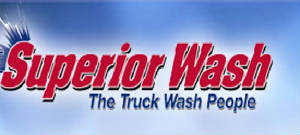 Franchise Interviews meets with Superior Wash
We are meeting with Jodi Scott and Brad James of the Superior Wash franchise opportunity,
Superior Wash is a national 24-hour mobile fleet washing company. The company is a
leader in the fleet-washing industry and services Fortune 500 clients
such as Coca-Cola, Fed-Ex, UPS and Budweiser trucks.
Not only does the company help to alleviate the pressure of rising gas costs for
corporate-owned fleet systems by conveniently traveling to an
accounts fleet site, but they also use an environmentally friendly
water recovery system in doing so. Click the play button below to listen to the show.