Pro Martial Arts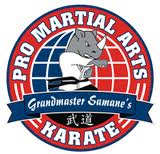 Franchise Interviews Meets With Pro Martial Arts
Many of the interviews on our show are inspirational and some stories are very touching. Today's show is no exception. We are meeting with Ed Samane, the founder of The Pro Martial Arts franchise system.
The Pro Martial Arts System is the product of years of training and teaching experience. It includes an exhilarating and assorted program of martial arts methods drawn from the Korean arts of Tang Soo Do, Tae Kwon Do and Hapkido.
What sets Pro Martial Arts apart from the typical martial arts school is the addition of their inspiring Life Skills Training program. Pro Martial Arts students obtain more than just Black Belt kicking and punching skills: they learn the importance of a Black Belt Lifestyle, a lifestyle of quiet confidence, poise, and fulfillment. Pro Martial Arts students are taught how to set and attain goals, be their own greatest believers and proactively practice and achieve success in all aspects of life. Learn more by listening to the show.