Max Muscle Sports Nutrition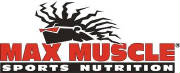 Bill Warner, Max Muscle Sports Nutrition Vice President of Franchise Development, and Kristin Wood, franchisee of Max Muscle Sports Nutrition. TOPIC: The segment will discuss everything Max Muscle Sports Nutrition, including how Max Muscle Sports Nutrition has evolved the fitness retail space. Max Muscle Sports Nutrition, a retail nutrition-based consultation franchise, is based out of California. They have the products (which are all scientifically based meaning every ingredient in the product in scientifically proven in its effectiveness), but the core of their business is allocated to creating personalized plans to meet each customers fitness goals. Each franchisee is a Certified Nutrition Coach and helps customers achieve their fitness goals in all aspects including diet, exercise, and recommending supplements that will work to help them attain their goals.
ABOUT MAX MUSCLE SPORTS NUTRITION: Established in 1991 by former NFL linebacker Joe Wells, Max Muscle Sports Nutrition (MMSN) is America's premier sports nutrition retail outlet and franchise system, selling a combination of scientifically proven nutritional supplements. Rated by Entrepreneur Magazine as a Top Retail Franchise, a Top 500 Franchise and by Military Times Magazine as a Best for Vets business. Click the play button below to listen to the show.