Franchise Interviews Meets with The Rent N Roll (RNR) Franchise Opportunity
Rent N Roll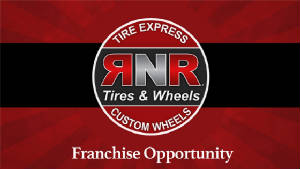 Franchise Interviews meets with the Rent N Roll franchise opportunity.
We are meeting with Larry Sutton of RNR Tire Express and Custom Wheels. Established in 1999, RNR (RENT-N-ROLL) has been a leading provider of custom wheels and tires with easy payment options. RNR has grown to over 60 locations with several stores scheduled to open across the US over the upcoming months.

In addition to the largest selection of brand name wheels and tires, RNR offers the best customer service and professional installation.
At RNR it has never been easier to get the wheels and/or tires you need. With thousands of wheels and tires to choose from, our experienced staff will help you select the right product for your ride.

RNR's Services
- Custom Wheel Sales & Service - Top Name Brand Tires - Professional Tire Installation - Advanced Rotate & Balance - Free Flat Repair - No Credit Hassles - Roadside Assistance Program - Guaranteed Lowest Prices
Larry shares his story in this fantastic podcast. Raised by a single mom in a one-bedroom duplex, Larry and his four siblings learned from an early age that if they wanted something, they needed to earn the money to pay for it. Sutton took this lesson seriously and by his senior year of high school, was well on his way to success, advancing up the ranks at his uncle's Tampa-based TV and appliance business-even selling inventory to all the high school teachers. Click the play button below to listen to the show.