Franchise Interviews Meets with the Dryer Vent Wizard Franchise
Dryer Vent Wizard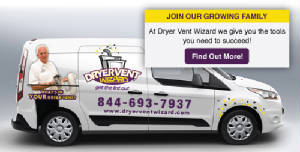 Franchise Interviews meets with Dryer Vent Wizard franchise opportunity.
We have a great show today. We are meeting with Dave Lavalle - Founder of the Dryer Vent Wizard franchise. David Lavalle, founded the Dryer Vent Wizard franchise system in 2004 in the Boston area. Lavalle frequently encountered homeowners having issues with their dryer vent systems that required an "urgent response." These issues were a result of dryer vent lint accumulation, blockages, disrepair, or improper venting configurations. The concept originated when Lavalle realized the need for a specialist for dryer vents.
Within a few years, the concept expanded into a successful franchise that specializes in dryer fire prevention and energy savings through dryer vent cleaning, inspection, repair, replacement, alterations, and maintenance for single and multi-family residential and commercial entities.
In Part 2, we discuss what every entrepreneur needs to know before buying a franchise. We will play a clip from our popular Great Quotes in Franchising podcast.